How Much House Can You Afford?
need fresh paint, flooring or repairs, but you have no cash to make the improvements? We can help!
Have you got thirty seconds? Find out here how to use the equity from your home.
Payment Calculator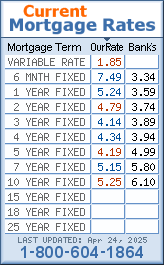 Buying A New Home Before Selling Your Current Property
Buying first can make the house hunting experience more enjoyable. Without a closing date looming on your existing home, you'll have time to wait until the right home comes up for sale. It can also be less stressful knowing that if your offer is unsuccessful, you have time to wait for the next opportunity to come up.
The downside to buying first is if you are unable to sell your home fast enough, you will find yourself owning two homes at once. The result is you could be paying two mortgages at the same time, not to mention all the other costs of homeownership. Also, you may have trouble obtaining a mortgage for the new home. Before you make an offer on your new home and potentially find yourself in this situation, carefully weigh whether you're financially able to pay for two homes at once.
As a buyer with an existing home to sell, you can protect yourself by adding a condition to any offer you make. In addition to the highly recommended conditions on financing and inspection, you can also make your offer conditional on the sale of your current home. That means if you're unable to sell within a specified period of time, you're able to back out of the transaction. However, it's worth pointing out that this condition will likely make your offer less attractive to the seller because of the uncertainty for them.