Why Choose Etobicokeforsale?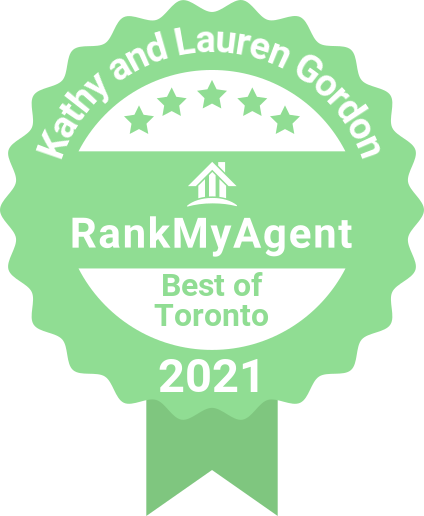 My family and I have known Kathy and Joe Gordon both as friends and neighbours for many years. Kathy is exceptionally personable and responsive to her clients; she is detail oriented and consistently demonstrated an interest and understanding of our family situation and needs. Kathy has an outstanding interpersonal skill set that is required to price, negotiate and successfully close a real estate transaction. She and her support team at RE/MAX Professionals were also efficient in dealing with the administrative side of our house sale. I would not hesitate to recommend Kathy and her team - my family and I were in excellent hands.
The Foleys 2020
2019 Barclay Terrace

Last year I had the pleasure of engaging Kathy Gordon and her team to sell a property in Etobicoke. The deal started out early in 2019 and through various twists and turns ended up being sold by Kathy and her team late in the year. During the whole time Kathy did a wonderful job keeping control of the rather complicated process. To begin with, Kathy set the stage very well by coordinating with my lawyers and myself and keeping me well informed. This was important and made the sale simple. Also every time we had to make an adjustment in the terms Kathy's team had the paperwork back to me within hours, this was very impressive. Next, Kathy got the pricing on the property correct and we were very satisfied with the price we received. Lastly, Kathy's team continued the service after the sale and the property was presented to the buyer in excellent shape.
In conclusion I would highly recommend Kathy Gordon and her team to anyone who is buying or selling a property in Toronto.
David Bland.
Siyan Tan
Kathy and her team were instrumental in helping us with our real estate needs. Through a very long house hunt she was patient, knowledgeable, proactive and pointed out a lot of stuff we never would have thought about. Her local knowledge of the neighbourhoods, agents, and contractors / builders was highly valuable too. When it came to selling, our home was staged and presented beautifully and it helped us sell quickly at a solid price and without any anxiety or worry. Thanks to Kathy, Lauren, and Joe!
April 2019
The Sayers
We had to sell our house quickly as we had unexpectedly bought a condo. We contacted Kathy and her team and knew after our first meeting we would list with them. An experience that we were very stressed and overwhelmed about went so smoothly thanks to the knowledge, advice, and help received by Kathy, Joe, and Lauren. Our house sold quickly! We would happily recommend this team if you are considering selling your home.
This was our 1st home that we ever sold and we were very nervous. We didn't know what to expect and were worried about the market. But The Gordons were absolutely amazing, they walked us through everything, set up the staging and did an amazing digital media campaign. We got the price we wanted and the whole experience was very positive. I would really commend working with Kathy and her team, as they have the experience, people skill and regional expertise that is incredibly valuable.

***** May 2018

My family and I had the opportunity to work with the Gordons, Lauren and Kathy selling our condo in Etobicoke. Lauren walked us through the entire process and answered all of our questions. The Gordons did an amazing job of staging our place. Much to our delight our place sold in 5 days. The Gordons exceeded our expectations. We would strongly recommend the Gordons for all of your real estate needs. The Gordons are an awesome team.

Jim and Eric.

I have done approximately 8 transactions with Kathy Gordon in the last 16 years. She has helped me prepare, list, sell and purchase a single dwelling home, a condo or two and a couple of town houses. I have bought and sold in Oakville, Etobicoke, Mississauga and Toronto with Kathy and she has steered me in the right Remax direction when out of her geographic area. With half of these transactions I also had the pleasure of working with the whole Gordon Family. Joe, Lauren, Becca and Kathy resolve any concerns immediately and anticipate well what my needs and wants will be. I have recommended the Kathy Gordon team to friends and family and will continue to do so. Honesty and integrity is the name of their approach which is critical with these high dollar transactions.
Sincerely, Peggy Carter April 2018

SERVICE – EXPERIENCE – JUDGEMENT

My brothers and I needed to sell our parent's home after they passed away.

The Gordons were recommend to us by a co-worker, who had used them for several house sales and purchases.

In our first meeting, we knew that we were engaging a full time, experienced real estate team, that knew every aspect of the business.

It turns out that they priced the home correctly, based on their complete knowledge of the neighborhood and the current market.

Over the course of the sale period, they gave us what turned out to be sound advise concerning when to adjust the price and how to handle the various offers that we received.

In the end, we received what we believe to be the most money that we could have realized for this house.

Throughout the process, The Gordons returned every email, text and phone call within the hour, even when they were out of town.

As three owners of the home, they accommodated the extra work of having all three of us sign every document without any of us having to travel out of our homes or offices.

They kept in contact with all of us weekly. Never did we feel that they had forgotten about us.

The final compliment came from our Real Estate Lawyer. She said that "it was it was a pleasure working with a Real Estate Team that really knew what they were doing".

We would not hesitate to call on The Gordons to sell or help us purchase a house in the future.

The Davis Brothers. Feb 2018


We were apprehensive about selling the house and then the Gordon's entered the picture. You are simply amazing, you immediately put us at ease and without our realizing it, guided and gently pushed us in the all the right directions. Your resource list was endless from painters, to lawyers, to the furniture bank. You always had an answer. You were always just a phone call away and your exuberance, coupled with the family's willingness to assist went above and beyond the call of duty. You even dropped of extra packing boxes and made all the arrangements to get furniture to the Furniture Bank. Your professionalism in staging and photographing the house and the printed material produced was an extremely professional presentation. Not only did your advice work so well, I am now bragging about your skills to everyone I can whether, they are in need of your services or not. More importantly, we have found some valuable new friends.

James and Deanna Clare June 2017
Thanks Kathy

" Recently,I bought a condo in midtown Toronto and sold a home in Streetsville within a two month period at the height of the robust real estate market this spring. Kathy,Lauren , and Joe Gordon had been recommended to me by friends and it was the best possible recommendation I could have received. This real estate team was professional,competent,knowledgeable,respectful, as well as highly responsive and supportive throughout this fast paced process .

This detail oriented team followed up on each query and patiently dealt with any issues . The advertising materials were top notch thanks to Joe's photography and use of social media.

The moves are now complete and Kathy and Lauren continue to be professionally engaged to assist with any concerns of questions.

So, if you want a team with proven experience , who are respected in the industry, have an excellent track record, and are committed to their clients, I urge you to contact Kathy , Lauren and Joe Gordon"

Ann, Spring 2017
Testimonial
Testimonial
Testimonial
Testimonial
Testimonial
Testimonial
Testimonial
Testimonial
Testimonial
Testimonial
Testimonial
Testimonial
Testimonial
Testimonial
"We can't thank Kathy and Joe enough for helping our family through the challenges of selling our childhood home. They were professional, diligent and thorough in all their efforts to market the house and their years of experience were very apparent in their knowledge of the market and our neighborhood. We are very happy with the result and especially appreciative of the considerate and patient way they handled family members who found leaving the house a bittersweet experience. We would not hesitate to recommend Kathy and Joe to family and friends."

Valerie on behalf of Bob, Winter 2015

"I have had the pleasure of working with Kathy on the purchase and sale of 3 homes in the Toronto-Mississauga area over the years, each one was seamless and profitable. My most recent experience in selling my Mississauga townhome in the fall was just fantastic. We sold within 4 days of listing! Kathy's expert advice in terms of pricing, promotion, open houses (and so many other details) was essential in making this happen. She is a true professional and goes out of her way to ensure her clients needs are met. I am very grateful to Kathy, and the Gordon team, for their support and hard work. I would highly recommend Kathy to anyone considering buying or selling a home!"

Carmin, Fall 2014

" I was referred to Kathy and Joe Gordon by a friend of mine. Searching for the right home is a daunting task, especially in Toronto, and even more so as a first-time buyer. Now that we have just closed, I'm thrilled that Kathy and Joe are on my side. Their level of experience and professionalism is outstanding. I would recommend them to anyone interested in buying or selling a home in Toronto."

Thanks again for your help, Kathy.

Damon

"You and your team are so professional, so easy and comfortable to work with, so thorough in your plan to prepare a house for sale, to stage it, to blanket-market it, all of which ensure a quick and successful sale, with a minimum amount of stress on the vendor.

All the best, and continued success to you all."

Jody

"I second the thoughts of Jody regarding the recent sale of our house.

Team Gordon professionally lead us through the entire process, correctly advising us on the setting of an accurate selling price, the how-to's of staging and preparing for offers. If those reading this are contemplating selling a house in Toronto, you would be wise to choose Team Gordon."

Phil Spring 2014

"We want to thank Kathy and Joe Gordon for handling the purchase of our condo in the Mimico area. Not only were they super professional and knowledgeable of the area, they were also very attentive to our needs and accommodating to our tricky schedule. In addition to providing sound advice throughout the process, Kathy was instrumental in managing an incredibly fast close, which met our aggressive timeline. Her extra efforts in coordinating between all parties to the closing process saved us from a lot of stress and potentially an extended hotel stay. This was the second time that we have used Kathy and Joe to find a home and we will not hesitate to use them again the next time. The extra efforts were greatly appreciated!
We would be glad, at any time, to refer Kathy and Joe to anyone who is seeking a home in the area."

Jason & Christine Winter 2014

"Thanks Kathy for all you've done…I'm shocked at the sale price but pleased for Mom….most importantly to me was how kind and caring you have both been to my Mom thru' this."
Lisa

"I also would like to thank you Kathy (and Joe) for the efforts you put in to this process. As Lisa said, you exercised sound judgment and extreme patience as we worked through the process.

I am very happy for Mum, as I thought she would be lucky to get close to the asking price based on the renovating/repair requirements of the property. To get what she did with no conditions is a great outcome. Oh well, I guess that's why I'm not in the real estate business!!!"
Greg

"I echo Lisa's comment and reiterate my thanks as I expressed to you last evening. It was very professionally handled it was pleasure to participate."
Gary

on behalf of Dorothy, Winter 2014

"Dear Kathy and Joe,
We want to thank you for the very professional way you handled the selling of our home.
From the initial advice regarding pricing and timing to the handling of the sale. Everything went like clockwork. We could not be more pleased with the outcome.
Your advertising of our home from the video that Joe produced, the pictures in the brochure to the open houses ensured that we had maximum exposure in a short time.
Thank you once again and we will highly recommend your services to others."

John and Linda, Fall 2013

"My business partner and I can not say enough about the extremely positive and professional service we experienced with Kathy and Joe Gordon as our real estate agents. On our first get together to tour the house we were wishing to put on the market they arranged a viewing of a very similar home on the same street that was for sale. We found this extremely informative in understanding the market, the competition and a very respectful use of our time which like mosts is very limited. Our home which had been a rental required some renovations to represent its potential and once again we found Kathy and Joe's years of experience immeasurable. With their extensive knowledge of the market they were able to guide us as to what should be replaced or receive a facelift. Although we work in the interior design industry and had a vision for the house they knew who was buying and in what price range; this was very instrumental in setting the budget. Anyway Kathy and Joe could assist from suggesting tried and true trades right down to making sure their was fruit in the fruit bowl when we ran short of time they did with joy. Happy ending; we were proud of the product we were selling when all the renovations were done, an ecstatic couple purchased for more than asking and we know who we will go to and recommend for any future real estate dealings."

Beth, Spring 2013

"Kathy and Joe,

I'd like to thank you both for helping me find and purchase my first home. The entire process can be overwhelming but your ability to answer all my questions and guide me through the entire process helped me to relax and take everything in stride. The wealth of knowledge about the community, the types of properties and your honest and humble opinions greatly assisted in making my first home purchase that much easier and satisfying. I appreciated your patience and being accommodating when viewing all the properties and taking the time to ensure that you find exactly what I was looking for.

Under your guidance, my first home purchase was a very positive experience and I couldn't be more satisfied. I look forward to working with you in the future and wish you both all the best."

Arthur, Summer 2013

"Working with Kathy and Joe Gordon to find our family home was a pleasure from start to finish. Their knowledge of Etobicoke and our neighbourhood of interest was indispensable. We had a smooth and fast home search, which in the Toronto real estate market is a truly unique and amazing experience. They are a wonderful team to work with and we wouldn't hesitate to recommend them to family and friends."

Meag and Ben, 2013

"Your support and guidance is so appreciated as we all know our trials we have had to endure with moving on to our new adventure. You both have been so supportive and please know that we all so appreciate your help."
"Just to echo Colin's words - you and Joe have been just awesome through this whole entire process. You both certainly worked your magic today and got us a fantastic deal on our house. Your guidance, advice and support have been greatly appreciated and we are so grateful and thankful for all your hard work."

Colin and Vivian, 2013

"Working with Kathy Gordon to buy my "last" home for my family and myself has been a very positive experience. Kathy skills, patience, and concern for her client and family, brings to life why she achieved the Remax Platinum Award for sales. As we combed Etobicoke looking at 30+ houses, Kathy was ever vigilant of my concern for neighbourhood, style of home, and financial parameters. Her insights included: market conditions, mortgage requirements, financial comfort, age and maintenance needs of the home, as well as possible renovations. Kathy responded to my many appointments and questions with grace, intelligence, and patience. When another opinion was needed, Joe participated in our discussions. Thank you Joe. I, without hesitation, recommend Kathy Gordon as an agent whose expertise and connection with her client, transforms a business relationship into one of respectful alliance. Thank you Kathy!"

Judy, October 2012

"My mother and I would like to thank you for your professionalism and attention to detail. You delivered exactly what you had promised to us. I wouldn't hesitate to recommend you to people we know. Thanks and take care."

Steven, September 2012

"It was early 2012, and we were contemplating selling our home. After observing Kathy and Joe successfully, and quickly, sell a home nearby; we decided to inquire as to their thoughts.After initially meeting us, they intuitively recognized that our home had a special place in our hearts. We were somewhat uncertain as to whether we would sell, but we did not feel any pressure on their part to make a decision. Once we did decide to sell, Kathy offered complimentary suggestions to enhance our home.Kathy and Joe are masters at marketing. Joe's exceptional photographs and virtual tour enhanced the beauty of our 80+ year old home. They also advertised in two local newspapers, on MLS, and on their website. Joe even took the time to walk (with their adorable Beagle) throughout the neighbourhood to drop off announcements of the pending open house.Throughout the process they constantly kept in touch with us to ensure we were comfortable and informed.Kathy and Joe are "down to earth" consummate professionals who we would recommend 100%."

Christina and Ken August 2012

"I was very nervous about buying my first home, but it ended up being a great experience thanks to Kathy and Joe. They listened and answered all my questions immediately! Kathy and Joe were both very patient and arranged for multiple showings for each home I was interested in. They helped me make the best decisions and were always very open and honest about the properties. I never felt pressure to buy or spend more than I was comfortable with. I trusted Kathy and Joe completely and now I am happily living in my dream home and it is all thanks to the hard work of the Gordon Etobicokehomes4sale team! I recommend Joe and Kathy to anyone who is thinking about selling or buying a home! No matter what your dreams are they will help you achieve them."

Claire D - buyer August 2012

"When Sherry and I decided that we wanted to move, there was no discussion or decision to be made about who we would engage to assist us. It was Kathy Gordon. We knew that we could look to Kathy for the guidance and direction that we would need in searching for a new home, and once found, to help us with the process of selling our starter home. Kathy did not disappoint. It was interesting that the new home we decided to purchase was the first one Kathy showed us. Kathy was patient in showing me and Sherry a number of other listings, and with the variety, helped us to zero in on what it was we were really looking for. On the selling side, I appreciated Kathy's insights into the market and her strategy in setting the listing price and the offer day. Kathy's experience in the offer-negotiation-acceptance process was reassuring to us. At the end of the day, both the buy and sell went smoothly, as we had hoped. We are now settled in our new home, with no looking back!
Thank you to you and Joe for your help and support"

Don & Sherry

"Kathy,
We can't thank-you enough for all that you and Joe did for us. You took the potentially stressful prospect of selling our home and made it enjoyable! Your marketing blitz was done flawlessly and Bernadette and I feel we could not have shown 57 Monarch Park any better.
We're really pleased with both the price it sold for and what I understand of the couple that's bought the place - it seems to be going to good hands! ;-) Now we can relax!"

Bob and Bernadette May 2012

"Over the past 12 years, Kathy has worked with us to buy once and sell twice and all three experiences brought outcomes that exceeded our expectations. In our most recent transaction, Kathy and Joe put together an excellent marketing plan that delivered an exceptional number of well qualified potential buyers to see our house and a deal we were thrilled with after just one week of exposure. Kathy's knowledge, attention to detail and professional approach truly set her apart and we would not hesitate to call on she and Joe again or recommend them to our family and friends."

Valerie & Bruce May 2012

"Kathy has been working patiently with us for about 5 years and during this time has demonstrated great expertise in the housing market, especially within the Etobicoke area. We could always count on her for sound and honest advice and developed a great trust in her opinion over the years. Both Kathy and Joe worked with us to get our house on the market. We felt well taken care of during the negotiation process in the sale of our house and felt that we were in the presence of a true professional. Kathy made sure she took care of our needs and negotiated what was important to us with confidence and poise. I would definitely recommend Kathy and Joe to anyone looking to buy or sell their home."

Tanja and Paul May 2012

"My wife and I recently sold our home with Kathy and Joe as our sales agents and we couldn't be happier with the level and quality of the representation we received. Kathy and Joe did an outstanding job of highlighting to prospective buyers all the things that made us fall in love with our home. The entire process was also completely painless under their expert direction. Kathy and Joe were available at any time to answer any questions we had, putting us at ease through the entire sale. I would highly recommend Kathy and Joe to anyone looking to buy or sell a home. We will definitely be asking them to represent us in our next transaction."

Lui & Michelle April 2012

"For over 20 years Kathy has represented us in several Real Estate deals. She has gone above and beyond time and again to make sure that each deal ran smoothly. Her commitment to her clients and knowledge of the business are extraordinary. We would not hesitate to use her again and again."

Richard & Ida

"Kathy and Joe helped with the sale of our previous home and the purchase of our present one. We were most satisfied with the terms of the closings in both the sale and the purchase. They are true professionals with knowledge of the markets and of the entire process of selling and buying homes. They understand that personal tastes, interests and emotions are part of each family's real estate decisions and listened to our needs. They described our home for sale very well using print and internet tools and advertised its features in a beautiful series of photographs which went a long way to bring in potential buyers.l
Even though they were not familiar with the area where we eventually purchased our new home they researched it well. The purchasing process went smoothly. We are very pleased with our new home and will definitely use their services when it comes time for us to make our next move."

Jan and Kent

Kathy's brilliant marketing strategy attracted a perfect buyer for our house with results that exceeded all our expectations. In addition, we found the entire process smooth and very well executed. House presentation materials were really impressive, as was Kathy & Joe's focus, communication, attention to detail and their ability to bring calmness and impeccable organization to a whirlwind of activity. Simply said, we felt that the sale of our house was in very capable hands and we strongly recommend Kathy & Joe team to anyone who wants to sell or buy a house.

Iveta and Larry

Kathy,
I want to thank you for helping me find my first home. It was a big step for me and at first I was very scared. But after meeting with you all my fears went away. Your knowledge and experience in the neighborhood and properties is fantastic. You always made time for me and provided me with your honest opinion which I greatly appreciated. You were genuinely trying to help me find the perfect home just right for me and I never felt rushed or pressured.
Your dedication, patience and kindness made my first time home buyer experience easy and stress free!
I am looking forward to working with you again in the future as I grow my family and am looking for my next bigger home.

Best Regards,
Agnes

"Kathy found us our dream home. She knew more about the GTA and Mississauga real estate market than most other agents could ever hope for. She has sold houses everywhere and had expert knowledge of neighborhoods. She worked well with us, listened to what we wanted but wasn't afraid to ask questions to help push us to consider things we wouldn't have otherwise. During the sale of our house, she was confident and never worried that we would be successful. We fed off that and sold in just 3 weeks!
We are so happy in our new home and would recommend Kathy (and Joe!) to anyone looking to buy - for the first time or the 10th! You'd be lucky to have her on your side."

Lilian

"Kathy and Joe actually made selling our home a pleasant experience! Within one week we had a beautiful on-line listing, including pictures, videos, and a lovely description, a week-end of open houses, two offers, and a sale above asking price! We could not have imagined an easier process, or a more satisfying outcome. Thanks, Kathy and Joe!"

Derek & Julie

---

Terri Moss

Thank you to you and Joe for making the the selling of our family home easier on my sister and myself.
Trying to keep a clear mind at this emotional time was not easy but with your help and professionalism you got us through it.
We are very pleased with the outcome and time frame in handling this sale.
Thank you both and I will not hesitate to recommend you in the future to any of our friends in the Etobicoke area.
02/04/2011

Scott and Leanne

Thank you very much for your help purchasing our perfect home! Your patience, knowlege and kindness were vital.

John

(client)
John hired you as a Real Estate Agent in 2003 and hired you more than once

Top qualities: Great Results, Expert, High Integrity

"I have both bought and sold a house with Kathy now, and she's great on both sides of the deal. Her knowledge of the process and the market helped us get the house we wanted at the right price, and get us a good price when we sold. I have trusted her judgment, and it has paid off. Kathy is not the first agent I have used, so I know by comparison how good she really is. I found her by way of recommendations from friends, and I whole-heartedly recommend her myself." February 28, 2010

Brian

(client)
Brian hired you as a Real Estate Agent in 1999 and hired you more than once

Top qualities: Great Results, Personable, High Integrity

"Kathy was instrumental in the purchase of my first house (a wee little fixer upper in Riverdale) and so when my partner and I went in on a house, there was no other choice than Kathy - she found us a perfect spot in Roncesvalles, and we couldn't be happier. Kathy is incredibly organized and knowledgeable, and her communication skills are top notch. I recommend Kathy to anyone who is looking to buy or sell a house." March 1, 2010

Dear Kathy

Thank you so much for helping us find our dream home. It was a long process but you never lost focus. Immediately after our first meeting, you began sending us listings that met our very long list of must haves and you continued to work just as hard over the next six months. There was never a day that went by that we did not hear from you. Many agents would have given up, but you never did. You understood our family's needs from day one. It was your determination and drive that landed us our dream home. We tell everyone we know that you are the hardest working agent around!

Thank you again,

Sue, Anthony and Emma

"I have referred my clients Real Estate needs to Kathy and she is without question the best I have seen in my over 30 years of conducting business. She is honest, trustworthy and extremely knowledgeable. The feedback from my clients experience with Kathy can only be described as one of excellence." January 19, 2009

John
hired Kathy as a Real Estate Agent in 2007 , and hired Kathy more than once

"Kathy is a true real estate professional who we have used to purchase both our home and investment properties. We will not hesitate to work with Kathy again in the future. Jamie McCahill" October 28, 2008

Top qualities: Great Results , Personable , Expert

Jamie
hired Kathy as a Real Estate Agent in 2000 , and hired Kathy more than once

"Kathy was knowledgeable, experienced and a pleasure to work with - especially for a first time home buyer." October 13, 2008

Top qualities: Personable , Expert , High Integrity

Petra
hired Kathy as a Real Estate Agent in 2007

"Over the years Kathy has worked on both the purchase and sale of several properties for my wife and I and has represented us very well in all instances. We have referred her to several friends who she has helped as well. I highly recommend you consider her if you need an agent to represent you." October 13, 2008

Top qualities: Great Results , Personable , High Integrity

Peter
hired Kathy as a Real Estate Agent in 2003 , and hired Kathy more than once

---

On behalf of the Sereda family we would like to thank Kathy Gordon of Remax Etobicoke on the very successful selling of our parents home.

Under the worst financial crisis and housing collapse since the 1930's Kathy went above and beyond in coping with this listing with an amazing web video and still photo listing on the internet, open houses, etc. She also helped us by providing many contacts for removal of furniture and household goods and kept us updated daily with information on the phone and also by email to confirm.

She always answered her phone when we needed to ask questions, she told us who, what, where, when, and why with all the necessary paperwork .

Kathy's professionalism and empathy with our particular situation allowed the family to focus on our parents failing health while she worked in the background and all of this was done during the Christmas and New Years time frame.

We would highly recommend Kathy Gordon as your Realtor of choice.

Thank you Kathy,

Stew, Greg, Nancy and Lynne

---

Kathy, Thank You Again for all your help with our purchase. Your advice and professionalism was much appreciated. You helped us along the process step by step and made the process stress free in the process.

Thank you again for all your help JP & Ellie

Hello from across the miles, Kathy ...... and CONGRATULATIONS!!!!

It was sooooo good to hear from you. Glad you sent me the announcement.

Wow, what an achievement, but even all those years ago you did stand out to us as being 'different' and human as a realtor! A real treasure, and we were sorry that our circumstances, as they unfurled, precluded us buying/selling with you because we ended up moving south instead.

However, you wouldn't believe how many times we have mentioned your name and wished that we could have taken you with us when we left Toronto and Canada. We have had some interesting home buying experiences (and some BAD ones) in Seattle, northern California and BC, where we now reside ..... hopefully settled now!

Only recently I was wondering if you were still in the real estate business ...... duh, with a vengeance, I'd say!! Is the Hall of Fame provincial, nationwide, north american, maybe even world????

Sorry for not responding earlier, life remains hectic and if I don't do something right when I think of it, I am an expert in good intentions and ultimate procrastination!!!! I am actually on the road right now, and thought of you so here, finally, is my response. I would LOVE to stay in contact with you, and continue to hear your news. We did not know each other for long, but somehow I feel like you are a long lost friend. V Cobban

" Finding our first home together was special and Kathy was there to help lead the way. Kathy acted very professional and patient throughout and we never felt pressured to buy. She was also attentive to our needs and concerns and was a joy to work with. Kathy has our seal of approval."

Marina & Tony

Merry Christmas and All the Best in 2007!

---

My sisters and I engaged Kathy Gordon to sell our mother's condominium in Etobicoke. We chose Kathy over other agents because she came to her initial interview with us well prepared and because of her quiet but confident, professional demeanor. Simply put we felt that we could trust her to do a good job. The property sold quickly and we were satisfied with the price.

Kathy was also helpful in arranging for movers and decorators for the condo.

I would recommend her as a sales agent.

Douglas

---

I needed a good fit and it was Kathy!!!! While assisting my mother in the sale of her house after 45 years I knew I needed an agent who would be >empathic to the situation. Someone who was respectful of age and willing >to take the time to tag me with me to minimize the stresses of the sale and the move. Kathy just seemed to know what to do, who to contact and what to discuss at the right time in the right way to make it all seem Ok. I would recommend her to anyone. GT

My experience is that Kathy "listens" to the client and "informs" the client well. She goes above and beyond the call of duty to satisfy your buying and selling needs and is appreciative of your business. I have had 4 occasions to work with Kathy Gordon and I will always call her for any real estate services
Peggy

Kathy is completely professional and really understands not only the real estate market but this specific neighborhood. She truly understands the seller's objectives and helps to achieve them.

Christine

---

It was great working with Kathy to search for our new house. Her knowledge and expertise helped us throughout the process. We would highly recommend her to anyone who is serious about buying a new home.
Regards,
Jennifer and Chun

---

" I must sing praises of our wonderful real estate agent, Kathy Gordon of ReMax, whom we found through a friend. Kathy is Goddess of Real Estate as far as both Jeff and I are concerned. She never pressured us, remained incredibly patient despite our indecision on the type and location of house prefs, was always cheerful and in good humour, worked incredibly hard for us. One thing I really appreciated was the fact that Kathy would point out the good and bad points of a house when we were looking at it, warning us about potential problems. As a result, Jeff and I learned a lot about buying houses at the same time that Kathy was learning more about us and what we liked and didn`t like even when we weren`t sure ourselves, or at least not enough to properly articulate it to her. Kathy`s unflagging sense of humour also kept our spirits up and helped take the edge off what could sometimes be a highly frustrating process. And she uses e-mail! And has a Blackberry! Much better than playing phone tag. I would recommend her services without hesitation. "

Jeff and Debbie

---

" Before deciding on a Realtor we interviewed 5 realtors in our home and had a telephone conversation with the sixth.The decision quickly came down to two choices. One came highly recommended by mutual friends through 3 transactions and this realtor made a good impression. Kathy Gordon impressed equally and in the final analysis was more impressive than any of the other realtors, including one who knew our area well. It became clear Kathy knew this whole area of Etobicoke very well indeed and was familiar with the realty market in the entire surrounding area. We have every reason to feel confident that Kathy Gordon was the right choice as our realtor. She was a very compatible, competent person with whom to deal,and guide by our decision, she handled the final sale and discussion between two offers pleasantly with firmness and tact and entirely to our satisfaction. "

Mervyn and Claire

---

" Kathy, I just wanted to take a moment to thank you for your work with us on selling our house. The whole process from beginning to end was as smooth and painless as one could possibly expect. Your help in some of the extra attention we needed was always cheerily available, and we really appreciated that. It was a real pleasure to have you represent us. " Sean and Cynthia

---

" Kathy went the extra mile to sell our home at a fantastic price. Thanks to her hard work, we received two offers over our asking price on the first day we listed our home for sale. Kathy was extremely professional and communicative from the time we gave her the listing to our closing date. "

Kevin

---

" I greatly appreciated the fact that Kathy was quickly able to understand my home buying needs. She was therefore able to streamline the search process to homes that met my criteria without wasting my time. The fact that we ended up going back and buying the first house she showed us after weeks of searching is testament to the fact that she had done her homework ahead of time. "

Jamie

---

" A great home ... a perfect location ... in less than a week ... at the right price! We couldn`t ask for more. Thanks for all your help and your `caring`. " Adele and Stan M.

- See more at: http://www.etobicokehomes4sale.com/testimonials.htm#sthash.baWqtc79.dpuf